15 healthy asparagus recipes perfect for spring! From humble side dish to main entree, asparagus is rich in antioxidants and high in fiber.
When I find myself getting caught in spontaneous rain showers, enjoying late-evening sunsets and waking up to a dusting of pale yellow pollen all over my car in the morning – that's when I know it's spring! Not only do I get spring fever to go outside (hello working on my patio!) and start exploring new trails to blaze, but I also get adventurous in trying new recipes for the season's produce! Asparagus is one of spring's finest veggies, and I'm pumped to stock up on them from the farmers market over the next few weeks.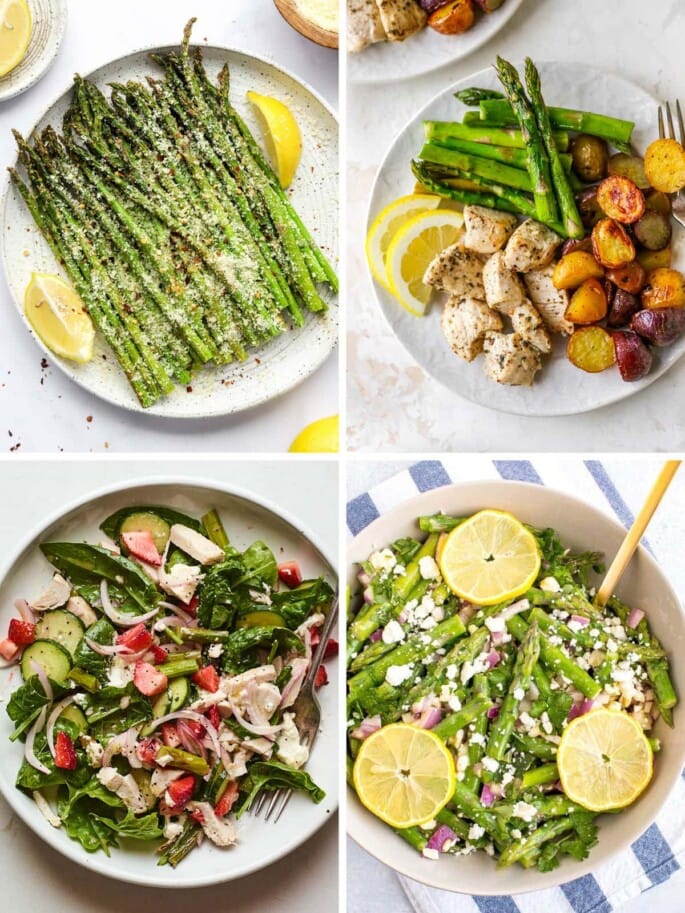 Asparagus spears are much like wildflowers – they can be laid-back for a weeknight supper or dressed up for an elegant backyard dinner party. Either way, they can be the show-stopper at any meal!
Health Benefits of Asparagus
On the nutrition front, asparagus is a low calorie vegetable that is rich in vitamins and minerals (namely folate and vitamins A, C and K) and antioxidants. It's also high in fiber and a natural diuretic, helping remove excess water and salt from the body. This is be really helpful if you're struggling with bloating or water retention.
Points for color. Points for health benefits. Negative points for stinky pee – but it's worth it! 😉
Asparagus Recipes To Make This Spring
Basically asparagus is the cool kid at the table and there are so many ways you can flavor, cook and serve it. That's why I put together this fun round-up of recipes from some of my fave blogging friends. Get inspired, grab yourself a bundle of spears and get cooking!
Air Fryer Asparagus
Make air fryer asparagus in under 10 minutes with this simple recipe! The end result is crisp and tender asparagus that makes for a perfect healthy side dish with just about any entree.
Get Recipe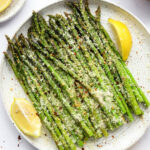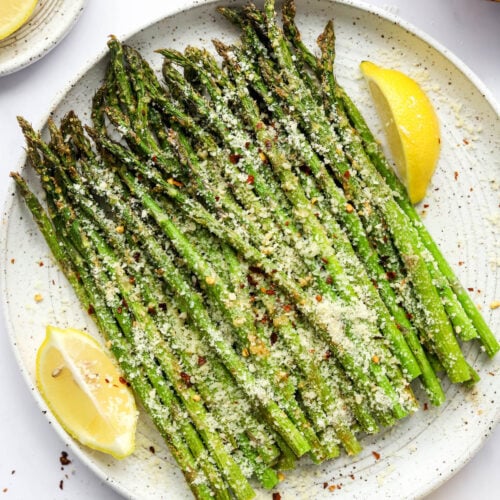 Roasted Asparagus
Roasted asparagus is an easy and healthy side dish that comes together in less than 30 minutes and can be flavored in a variety of ways. Try topping it with fresh lemon, red pepper flakes or parmesan cheese. 
Get Recipe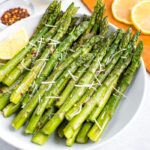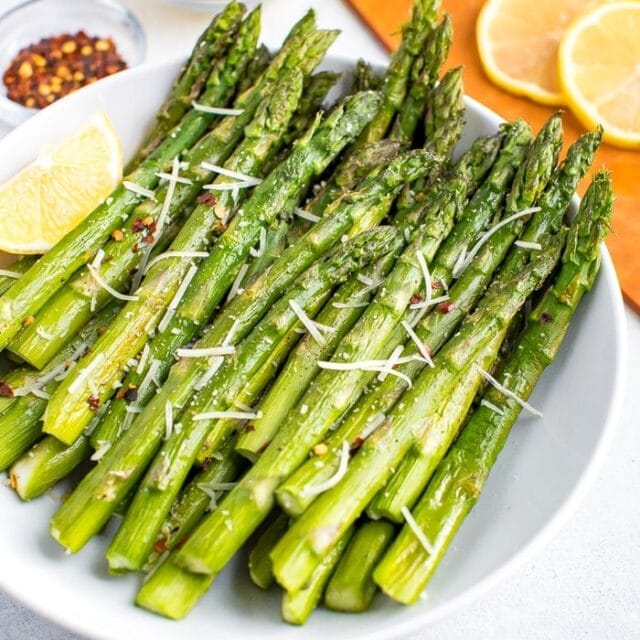 Strawberry Spinach Mason Jar Salad
This spinach mason jar salad features grilled chicken, strawberries and a citrus poppy seed dressing. Layer all of the ingredients into a mason jar for a healthy, portable lunch!
Get Recipe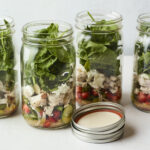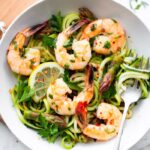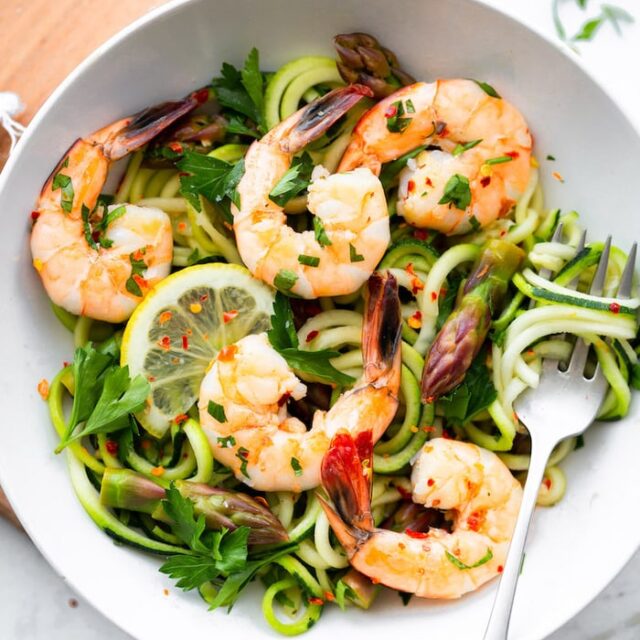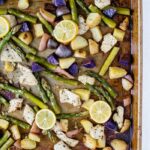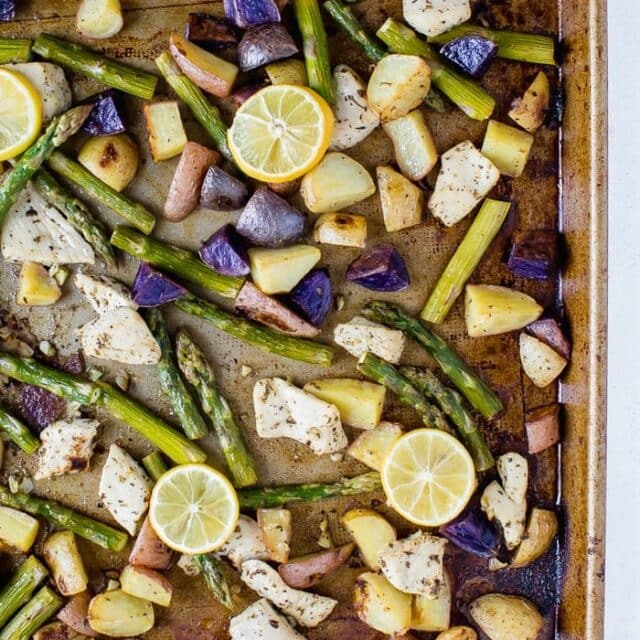 Spring Quinoa Salad
Roasted asparagus and radishes are the star of this fresh and flavorful springtime quinoa salad. Perfect as a make-ahead lunch option for a potluck side dish. Vegan and gluten-free.
Get Recipe
Grilled Shrimp Salad
A quick and easy recipe for a grilled shrimp salad with quinoa, broccoli and roasted asparagus! Prepare everything ahead of time and throw it into a bowl for dinner.
Get Recipe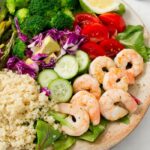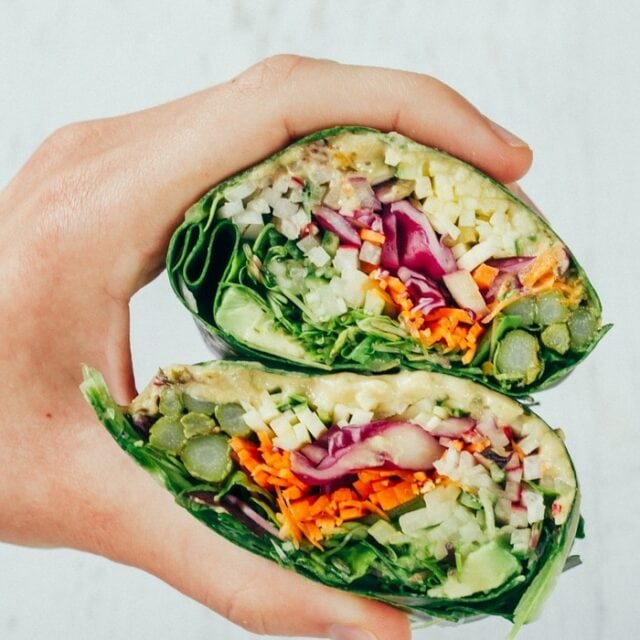 Mason Jar Nicoise Salad
This nicoise salad can be meal prepped two ways: in a mason jar or a meal prep container. It's filling, flavorful and loaded with protein but is still light and easy to digest. Don't skip the fresh dill! Gluten-free. 
Get Recipe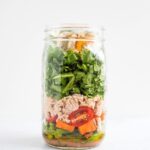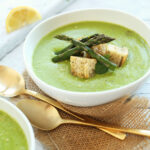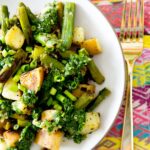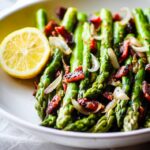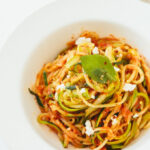 More Recipe Collections You Might Enjoy
15 Healthy Asparagus Recipes (+ Roasted Asparagus)
15 asparagus recipes for spring plus how to make roasted asparagus, an easy and healthy side dish that comes together in less than 30 minutes.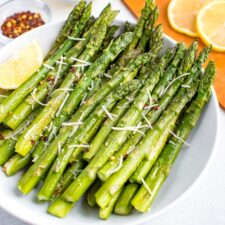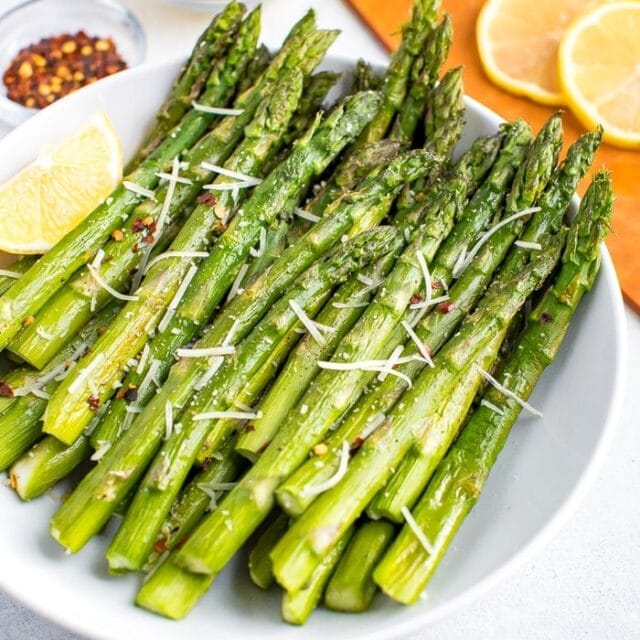 1

bunch fresh asparagus

1

Tablespoon

olive oil

1

teaspoon

sea salt

½

teaspoon

ground pepper

parmesan cheese

,

for topping
Preheat oven to 425°F.

Place the asparagus into a mixing bowl, and drizzle with the olive oil. Toss to coat the spears, then sprinkle with salt and pepper.

Arrange the asparagus onto a baking sheet in a single layer.

Bake in the preheated oven until just tender, 12 to 15 minutes depending on thickness.

Sprinkle with shredded parmesan cheese.
Serving: 6spears, no toppings Calories: 80kcal Carbohydrates: 4g Protein: 2g Fat: 7g Saturated Fat: 1g Polyunsaturated Fat: 1g Monounsaturated Fat: 5g Sodium: 1182mg Potassium: 202mg Fiber: 2g Sugar: 2g
DID YOU MAKE THIS RECIPE?
Please leave a comment and star rating on this post and share on social media using the hashtag #eatingbirdfood. I love seeing your recipe shares!
This post may include affiliate links. Thank you for your support.