Make air fryer asparagus in under 10 minutes with this simple recipe! The end result is crisp and tender asparagus that makes for a perfect healthy side dish with just about any entree.
I'm seriously hooked on using my air fryer for as many recipes as possible… potatoes, eggs, chicken, salmon… you name it! I just love how things turn out when you air fry, especially veggies. And air fryer asparagus is no exception!
The asparagus cooks up in under 10 minutes and comes out crispy and tender. It's seriously addicting, I could easily eat the whole batch to myself (and may or may not have already done that!)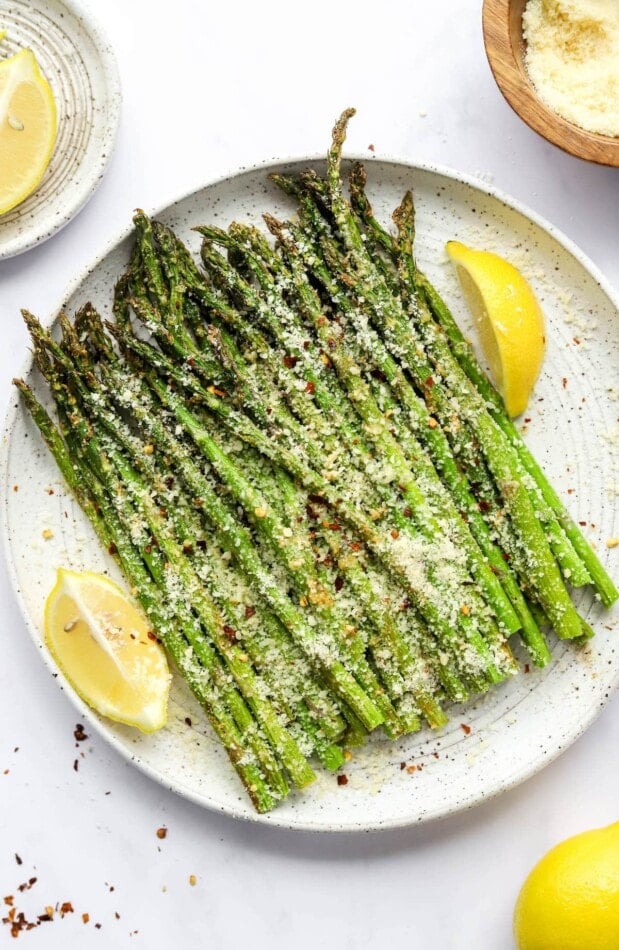 Why You'll Love This Recipe
It's super simple! Toss your asparagus in some oil and spices and let the air fryer do the rest!
You can pair it with just about any main entree as a side, but also makes for a healthy snack!
You'll end up with crispy and deliciously addicting asparagus.
Asparagus is low-carb and low in calories making it a great for volume eaters.
Asparagus Nutrition Facts
Asparagus is a nutrient-dense food, meaning it packs a lot of nutrients and not a lot of calories. 1 cup of asparagus is only 20 calories so it's a wonderful vegetable for volume eating.
It's also loaded with fiber and has a lot of great vitamins and minerals – the most notable being folate, a nutrient that is essential for a healthy pregnancy, as well as, vitamin A, C and vitamin K, an essential nutrient for blood clotting and bone health.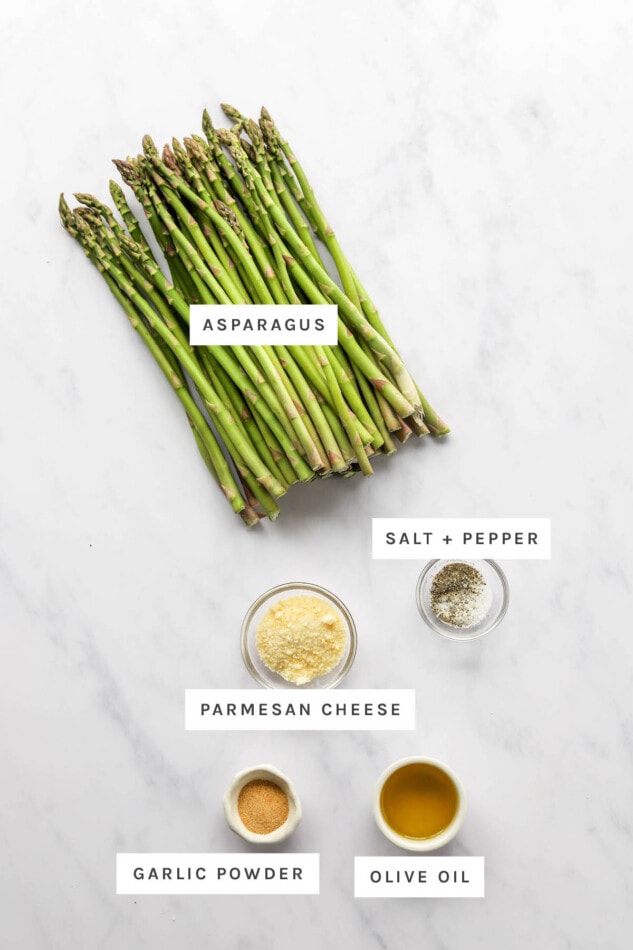 Ingredients Needed
asparagus – 1 bunch of fresh asparagus. Look for spears that are straight, firm to the touch, and have a rich color with a small amount of white at the bottom. Avoid stalks that appear soft, wilted or are faded in color.
olive oil – avocado oil would also work.
seasonings – garlic powder, salt and pepper.
parmesan – I love sprinkling fresh parmesan cheese on top to add a little flavor and I love the crunchiness it adds once it cooks up. If you need this recipe to be vegan or dairy-free simply skip the cheese!
lemon – a squeeze of fresh lemon adds beautiful acidity to the overall dish but it's optional and delicious without it!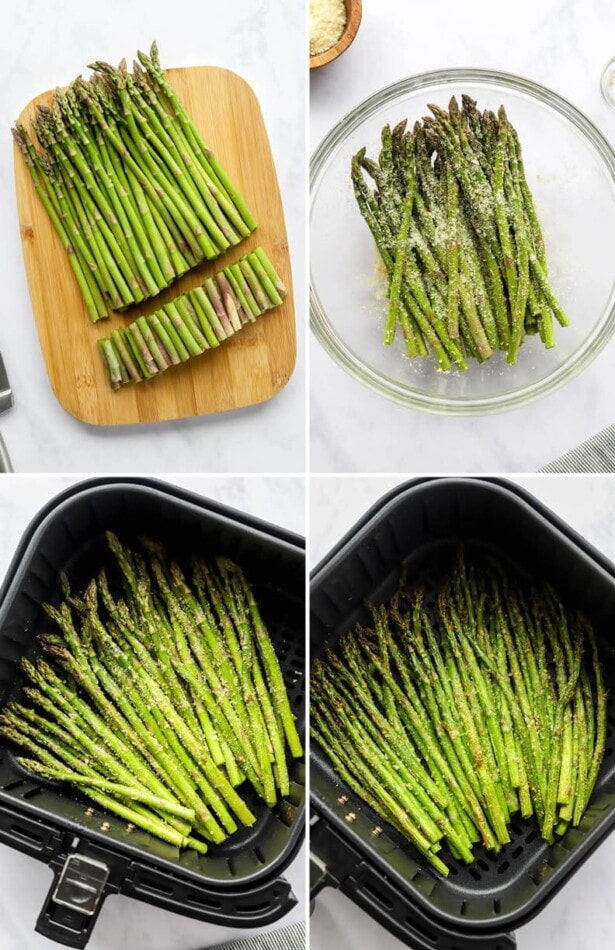 How to Make Air Fryer Asparagus
This air fryer asparagus recipe is so, so simple! Start by washing and trimming the asparagus to remove the woody ends. Add spears to a large bowl and drizzle with olive oil. Toss to coat, then sprinkle with garlic powder, salt, pepper and parmesan cheese.
Preheat air fryer if required. Add asparagus to the air fryer basket in a single layer and cook on 400°F for 7-8 minutes.
Serve asparagus immediately with a slice of lemon and additional parmesan cheese and crushed red pepper on top, if desired.
note!
The cook time will depend on how thick your asparagus is, so watch it carefully! The thinner the asparagus the quicker it'll cook up.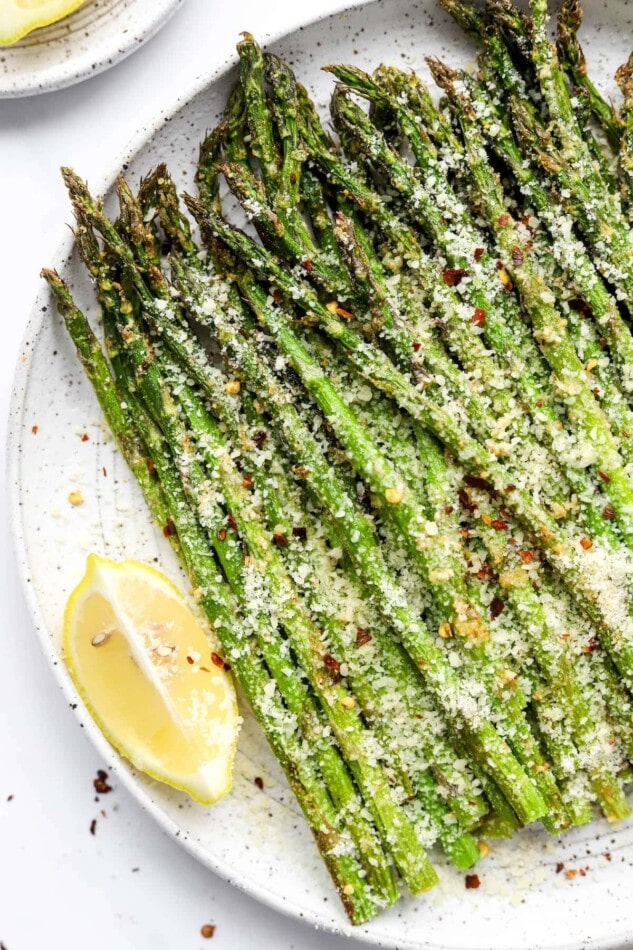 Variations
I love these asparagus just as they are, but here are a few ideas to switch up the flavors:
Spicy – add some red pepper flakes or Sriracha for a touch of spice!
Sweet + spicy – go for a sweet and spicy combo by drizzling with honey (or maple syrup) and sprinkling with red pepper flakes.
Sesame – give your asparagus an Asian flare and add soy sauce, tamari or coconut aminos and sesame seeds.
Bacon bits – make some tempeh bacon or coconut bacon (or the real deal!), chop into small pieces and top your aspaaragus with bacon 'bits' for some umami flavor!
Balsamic vinegar – Simply drizzle some balsamic vinegar for an extra boost of flavor.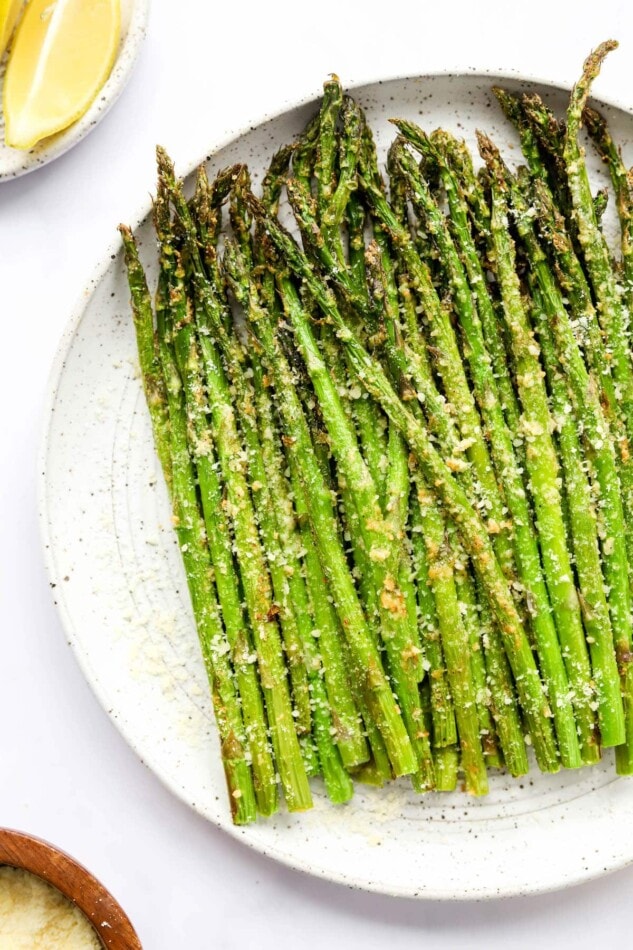 Air Fryer FAQ
Do I need to preheat my air fryer?
That depends on your air fryer! Some recommend preheating and others do not require it. Check your owners' manual to see what they recommend. If you don't have a preheat setting, just set your air fryer to the required temperature about 3 minutes before adding your food.
How much can I put into my air fryer?
It depends on the size of your basket. You'll want to make sure you don't overcrowd the basket or your asparagus will not get crispy. If you want to make a bigger batch of asparagus you may need to cook in batches. I was able to do this full recipe at one time in my 4-quart air fryer, but I wouldn't be able to fit more without overcrowding it.
Can I use aerosol spray on my air fryer?
I do not recommend spraying aerosol spray directly on your air fryer! Like most non-stick items, it's best to avoid sprays like Pam as it can mess with the finish. You can however use an oil mister or non aerosol sprays. I really like the Chosen Foods avocado oil spray.
Can I reheat cooked asparagus?
Yes! To reheat, warm asparagus in the air fryer at 350ºF for 2-3 minutes until warm throughout and crisp.
What is the best way to trim asparagus?
Asparagus tastes the best when the white part of the stalk has been trimmed off. You may or may not know this trick, but hold the asparagus spear in your two hands and bend it near the base. The spear will snap off where the woody part of the stalk ends and the edible stem begins. Alternatively, you can use a knife to cut off the end.
How long does it take to roast asparagus?
If you are roasting asparagus in the oven it will take about 12-15 minutes at 425°F, but if you're cooking asparagus in the air fryer it'll cook up in only 7-8 minutes! If you are looking for a recipe on how to make asparagus in the oven I do have a roasted asparagus recipe that you can check out.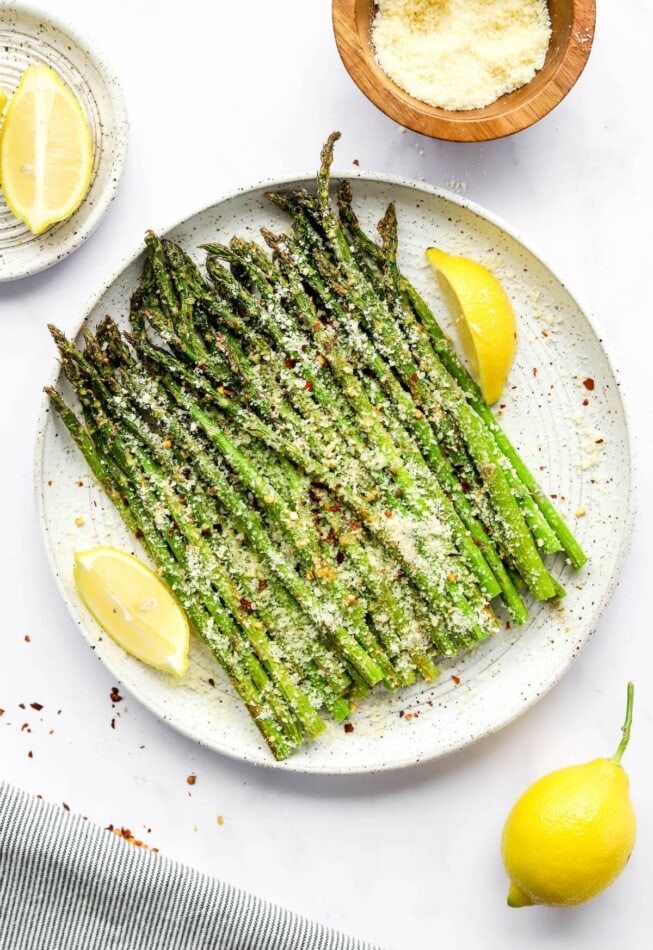 How to Serve Air Fryer Asparagus
This air fryer asparagus can be served in a variety of different ways! Here are some serving suggestions:
How to Store And Reheat
Chances are you won't have any leftovers to store! But if you do, you can put them in an airtight container in the refrigerator for 3-4 days. Be aware that they will lose their crispiness and might become soggy. To reheat, warm them in the air fryer at 350ºF for 2-3 minutes until warm throughout and crisp.
More Asparagus Recipes
Looking For More Air Fryer Recipes?
Be sure to check out the full collection of the air fryer recipes here on EBF!
Air Fryer Asparagus
Make air fryer asparagus in under 10 minutes with this simple recipe! The end result is crisp and tender asparagus that makes for a perfect healthy side dish with just about any entree.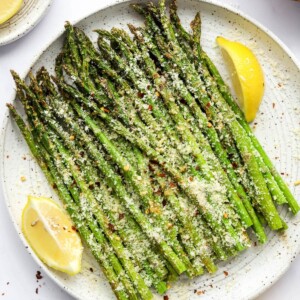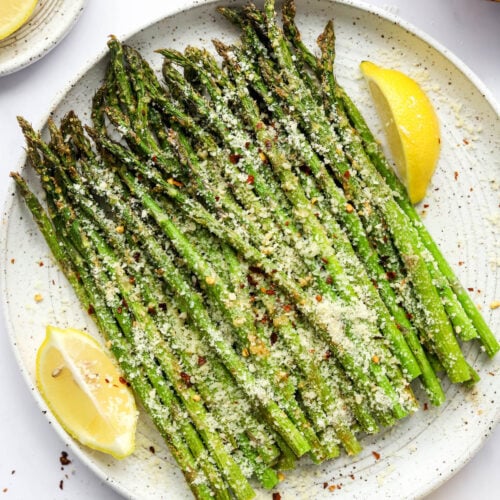 1

bunch

fresh asparagus

,

1 lb

2

teaspoons

olive oil

½

teaspoon

garlic powder

½

teaspoon

sea salt

¼

teaspoon

ground pepper

3

Tablespoons

shredded parmesan cheese

Toppings: lemon

,

crushed red pepper, additional parmesan cheese
Serving: 1/2 recipe Calories: 120kcal Carbohydrates: 10g Protein: 8g Fat: 7g Saturated Fat: 2g Polyunsaturated Fat: 1g Monounsaturated Fat: 4g Cholesterol: 5mg Sodium: 722mg Potassium: 478mg Fiber: 5g Sugar: 4g
DID YOU MAKE THIS RECIPE?
Please leave a comment and star rating on this post and share on social media using the hashtag #eatingbirdfood. I love seeing your recipe shares!
This post may include affiliate links. Thank you for your support.