These dark chocolate avocado truffles are made with avocado instead of heavy cream. They're rich, creamy and absolutely delicious. Made with just 4 simple ingredients they come together quickly! Gluten-free + vegan.
I have a sweet tooth… which isn't a bad thing! I just like to make sure I have upgraded treats prepped so when the craving hits, I have something that I can feel good about eating.
These truffles hit the spot! They're made with avocado instead of heavy cream, but you can't taste the avocado at all. All you taste is creamy deliciousness.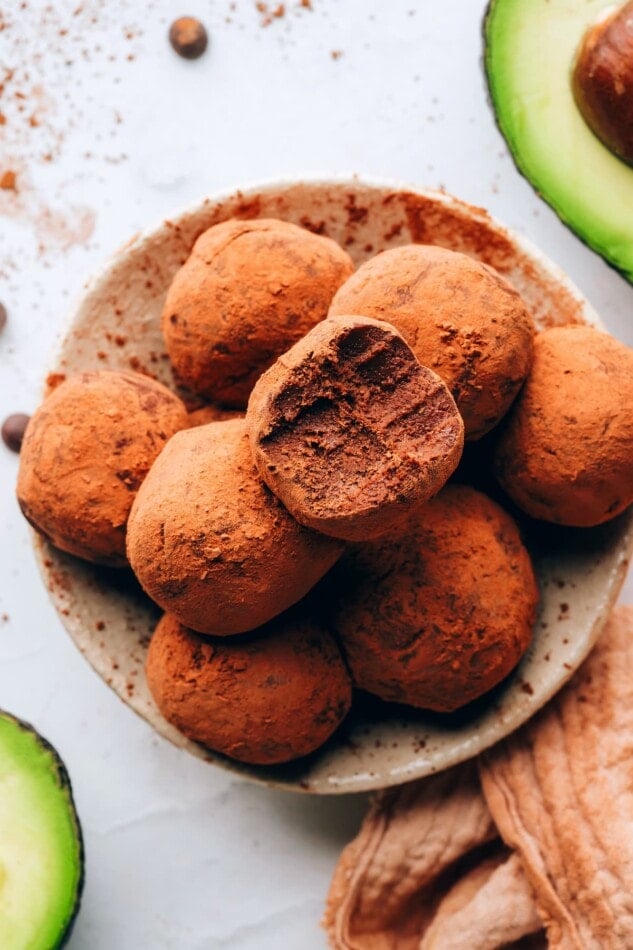 WATCH HOW TO MAKE HEALTHY CHOCOLATE AVOCADO TRUFFLES
They're the perfect dessert for any occasion, but they would make a great healthy Valentine's Day dessert.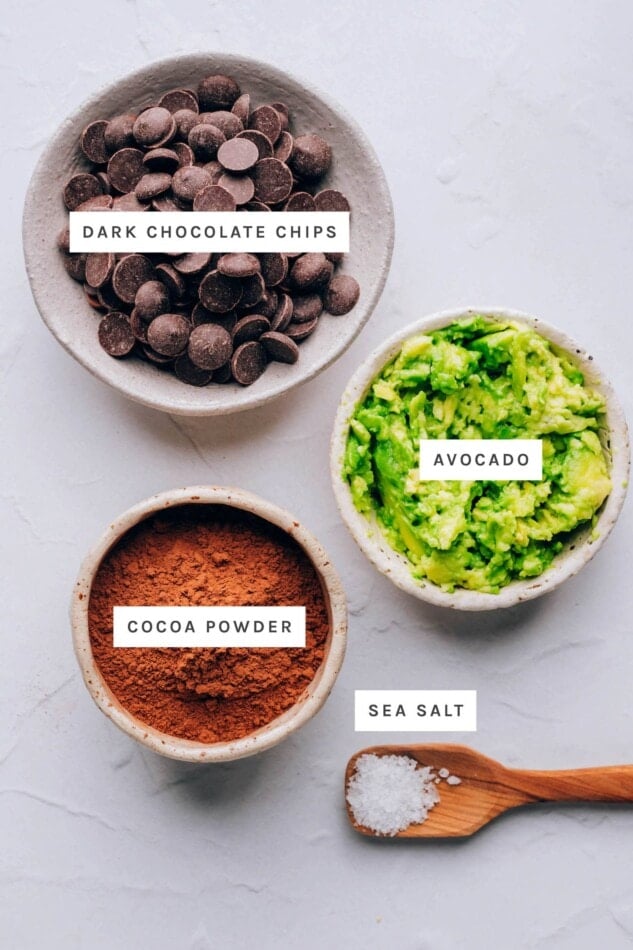 Chocolate Avocado Truffle Ingredients
You only need four simple ingredients to whip up these truffles and if you're like me you probably have all of the ingredients sitting in your kitchen right now!
avocado – you only need one avocado, but you could easily double the recipe to make a bigger batch. Trust me when I say these truffles don't last long! Make sure you use ripe avocados! The flesh should give slightly when you press on it. Avocado is what makes these truffles super creamy and adds healthy fats!
dark chocolate chips – I used Enjoy Life dark chocolate chips, which are dairy-free, vegan and soy-free, but I also love Lily's dark chocolate chips because they're lower in sugar and calories and they're also dairy-free.
cocoa powder or cacao powder – this is just to roll the truffles in. It makes them look so cute.
sea salt – if you don't want to roll your truffles in cocoa powder, you can sprinkle them with sea salt! I recommend a course sea salt.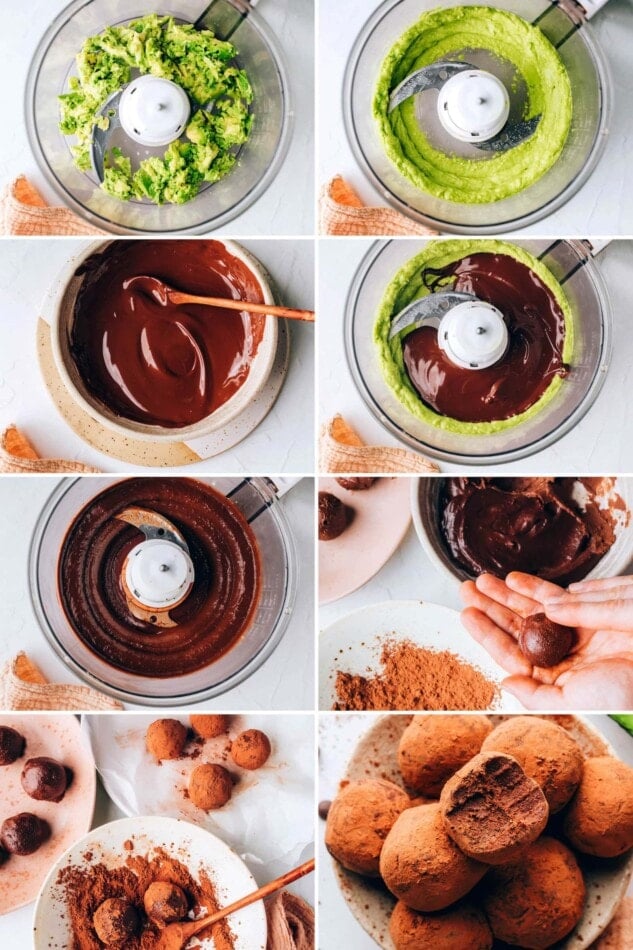 How to Make Chocolate Avocado Truffles
Pulse avocado – Add avocado and a sprinkle of sea salt to a food processor and pulse a few times to combine.
Melt dark chocolate – Place chocolate chips in a microwave-safe bowl and microwave using 30-second intervals, stirring after each interval, until completely melted and smooth. It will likely take 1 to 3 minutes (depending on your microwave). Make sure you don't scorch the chocolate! Stop heating as soon as it's melted. You can also melt the chocolate with a double broiler if you have one.
Add chocolate – Pour melted chocolate into the food processor with the avocado and pulse until mixture is completely combined and chunks of avocado are no longer visible. If you don't have a food processor you can mash the avocado with a fork and combine it with the chocolate until smooth and lump-free.
Chill – Place truffle mixture in the refrigerator to chill for at least 30 minutes.
Make truffles – Once the mixture has firmed up a bit, remove from the fridge and make the truffles. Scoop mixture using a tablespoon or small cookie scoop and roll into a 1-inch ball using your hands. You should get about 20 truffles.
Roll in cocoa powder or sprinkle with salt – Fill a shallow bowl with cocoa powder and roll each truffle until coated. Place on parchment paper. Another option is to skip the cocoa powder dusting and simply sprinkle a few sea salt flakes on each truffle. Store in the fridge until ready to serve.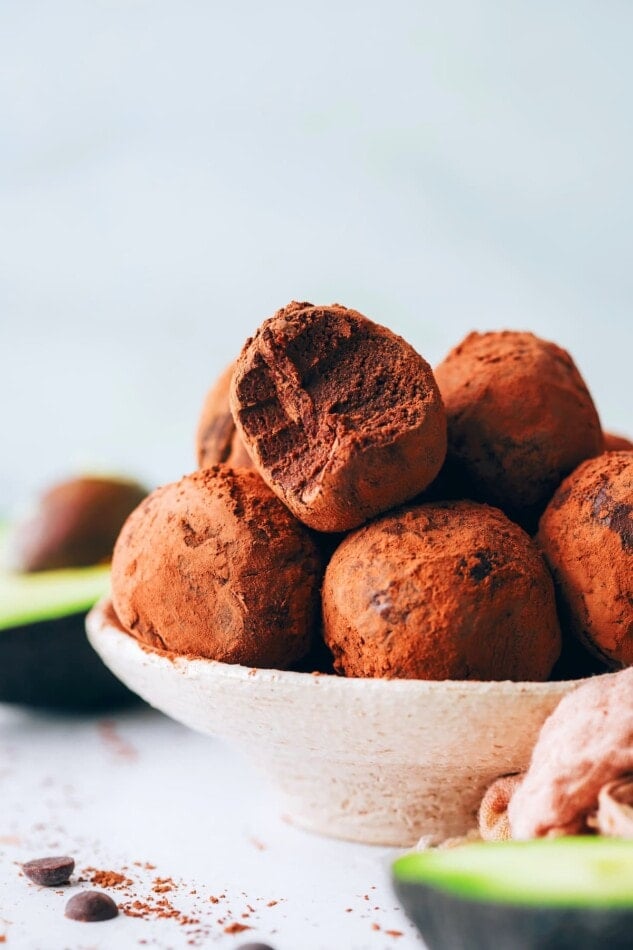 Flavor Variations
Plain chocolate is great, but I'm already dreaming about different flavor variations of these truffles:
Chocolate nut – roll truffles in 2-3 Tablespoons of chopped nuts instead of cocoa powder.
Berry Chocolate – crush up freeze dried strawberries or raspberries to roll the truffles in. This would be so cute for Valentine's Day
Coconut chocolate – coat truffles in 2-3 Tablespoons of shredded coconut.
Chocolate espresso – how delicious would a coffee variation be? Roll truffles in espresso powder for an extra zip.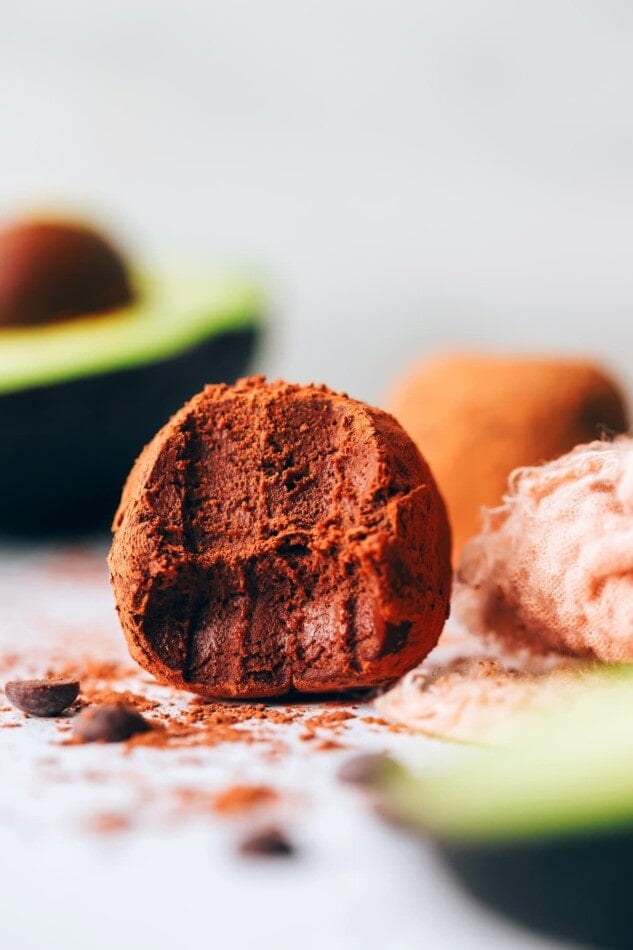 How to Store Avocado Truffles
Store avocado truffles in the fridge for about 7 days or in the freezer for up to 3 months. If you keep the truffles in the freezer, be sure to bring them out and let them rest for 5-10 minutes before eating because the chocolate will be really hard.
More Easy Treats to Try
More Avocado Recipes to Try
Be sure to check out all of my avocado recipes as well as all my popular dessert recipes here on EBF!
Dark Chocolate Avocado Truffles
These dark chocolate avocado truffles are made with avocado instead of heavy cream. They're rich, creamy and absolutely delicious. Made with just 4 simple ingredients they come together quickly! Gluten-free + vegan.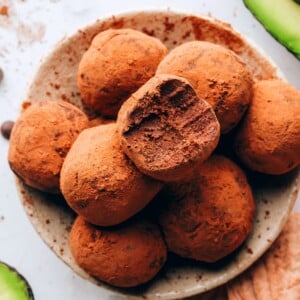 Serving: 1truffle Calories: 35kcal Carbohydrates: 4g Protein: 1g Fat: 3g Saturated Fat: 1g Cholesterol: 2mg Sodium: 8mg Potassium: 89mg Fiber: 2g
DID YOU MAKE THIS RECIPE?
Please leave a comment and star rating on this post and share on social media using the hashtag #eatingbirdfood. I love seeing your recipe shares!
This post may include affiliate links. Thank you for your support.