Chocolate Chia Seed Pudding is a nutritious dessert recipe that tastes like decadent chocolate pudding, but is actually made with maple syrup, unsweetened cocoa powder, and chia seeds!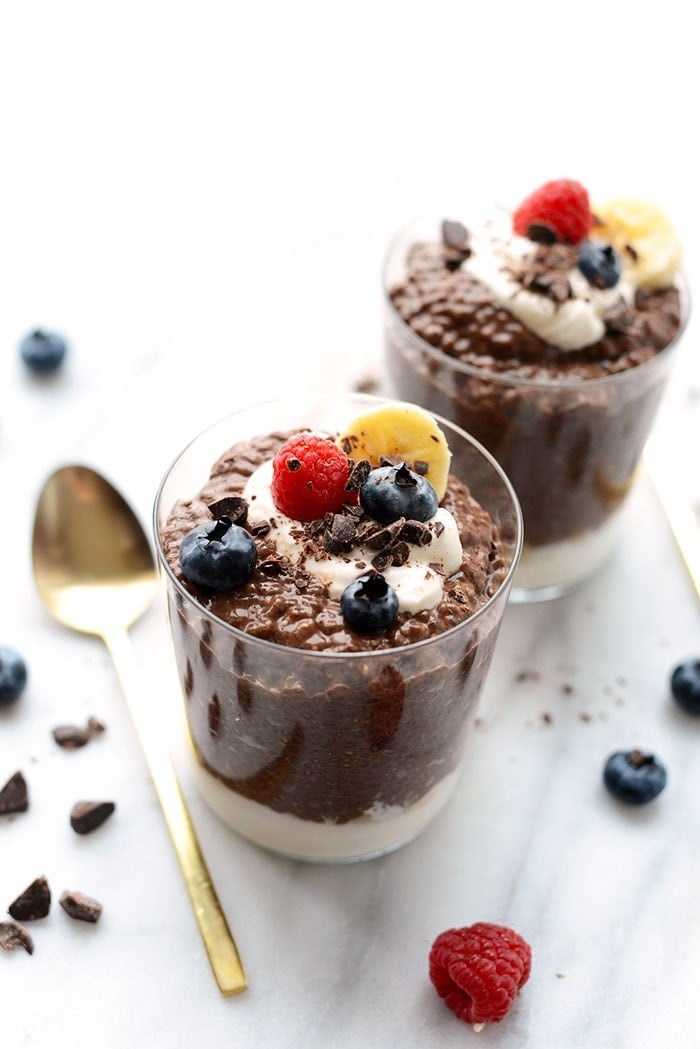 The Best Chia Seed Pudding!
This Chocolate Chia Seed Pudding is a thick & creamy, delicious dessert that's naturally vegan and gluten-free. 
What is chia seed pudding? If you've never heard of chia seed pudding you essentially soak chia seeds in liquid and they expand into a gelatinous substance. When combined with cocoa powder, maple syrup, and almond milk it tastes exactly like chocolate pudding!
In this post, we'll teach you all about why we love chia seeds plus how to make this yummy chocolate chia pudding recipe.
Why you'll love it!
Protein-packed dessert
High-fiber
Kid-friendly
Easy-to-make
Great meal prep
​High in omega-3's
Health Benefits of Chia Seeds
I have been cooking, eating, and baking with chia seeds since I started this website in 2010. They truly are a superfood and for so many reasons. Here are some fun chia seed facts:
complete protein
packed with omega 3 fatty acids
high protein and fiber
packed with calcium
helps you poop!
rich in antioxidants 
Chia seeds are gluten-free, vegan, paleo, and dairy-free. Furthermore, their nutrition profile is pretty stellar too! Check it out:
chia seeds nutrition
Per 2 tablespoons:
139 calories
4g protein
9g fat
12g carbs
11g fiber
A quick tip about chia seeds!
And now, my favorite thing about chia seeds! Did you know that when chia seeds soak in liquid, they expand in size and become extremely gelatinous?
The texture is slippery and quite similar to actual pudding. Chia seeds also take on the flavors of whatever you mix them with. Another reason why they make an amazing pudding.
We love using chia seeds in smoothies, overnight oats, and chia seed pudding!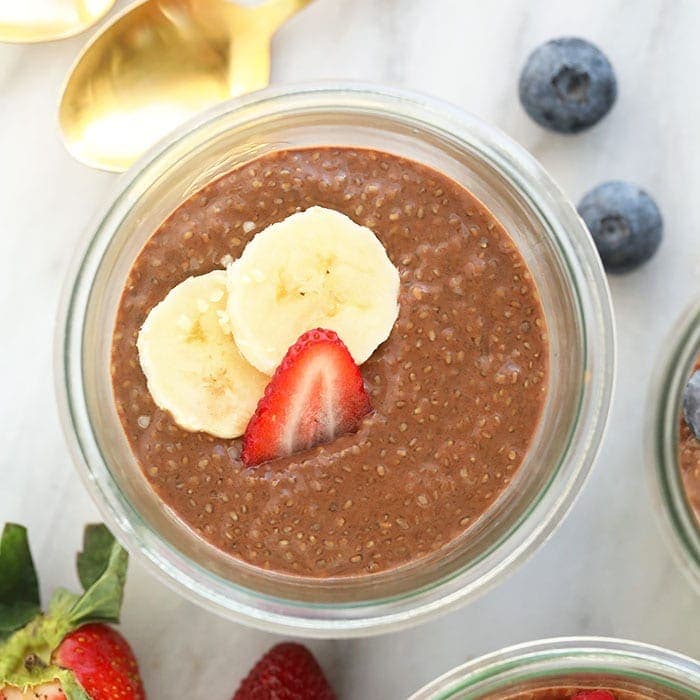 Try it!
Protein Chia Pudding Cups
Do yourself a favor and meal prep these protein chia seed pudding cups for a protein packed breakfast or snack throughout the week!
Get Recipe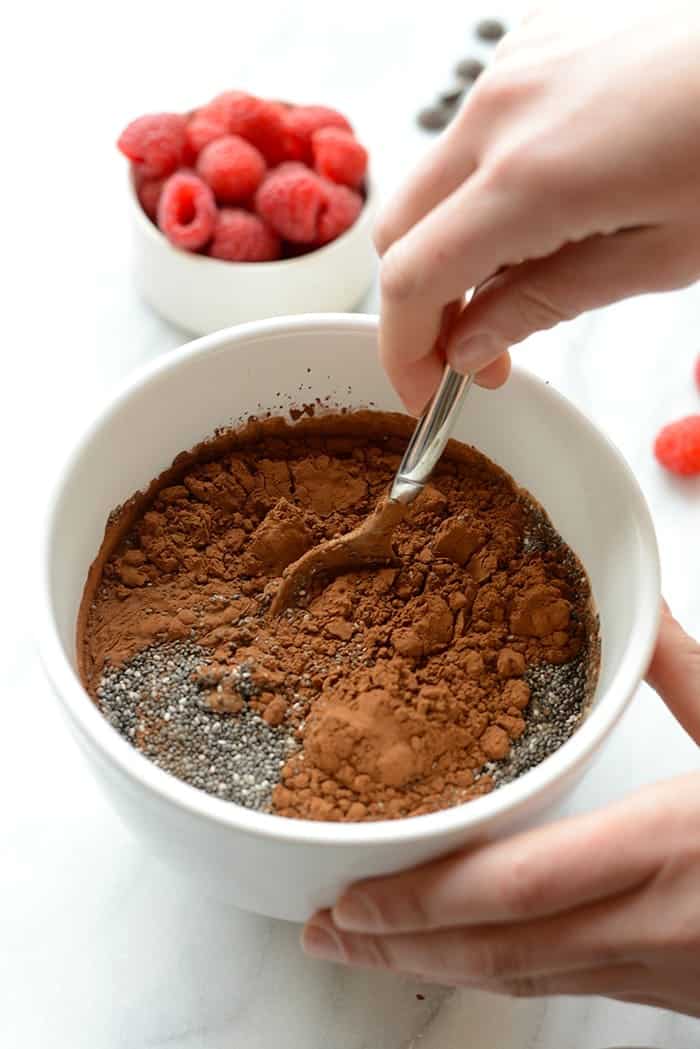 What You Need for Chocolate Chia Seed Pudding 
Chia seeds – any kind of chia seeds work. The most common chia seeds you can find are black and white chia seeds. We've used both! Our #1 tip is to make sure your chia seeds are as fresh as possible and not expired or they will not expand.
Cocoa powder – This recipe calls for unsweetened cocoa powder. You can also use dark cocoa powder or cacao powder, but you may need to use more maple syrup to offset the bitterness.
Maple syrup – maple syrup compliments the cocoa powder in so many ways. I love how warm and nutty maple syrup is! Feel free to use honey or agave or any other liquid sweetener.
Unsweetened almond milk – we prefer unsweetened almond milk, but you can really use any kind of milk or liquid that you want such as coconut milk, oat milk, cow's milk, etc.
#1 chia seed pudding tip
I can't count on my fingers and toes the number of times I've made chocolate chia seed pudding – or any chia pudding for that matter.
Our #1 tip is to make sure your chia seeds are as fresh as possible and NOT expired. If you use old/expired chia seeds, they will not expand properly. Speaking from experience over here!
How to Make Chia Seed Pudding
Step 1: Prep
Place all ingredients in a medium-sized bowl or jar and whisk/stir together until the cocoa powder is completely dissolved. We like to use a bowl with a lid for this recipe, so you can safely store it in the fridge without worrying about your chia pudding spilling.
Step 2: Cover & Set
Cover your chia pudding and place it into the fridge for at least 2 hours. We recommend letting your chia seed pudding sit for at least 12 hours to fully gelatinize.
You will be able to tell a difference between chocolate chia seed pudding that has sat for only 2 hours compared to a batch that has sat for a full 12. The longer it sits, the thicker it will get!
Step 3: Eat!
After 2-12 hours, remove chia seed pudding from the fridge and mix. Option to add a little bit more milk depending on how thick you like it.
Feel free to also add more maple syrup if you want your chocolate chia seed pudding sweeter, as well.
Should I blend my chia pudding? If you are looking for a classic pudding texture and consistency, feel free to transfer your chia pudding into a high-speed blender after it has expanded and blend on high for 1 minute. This will pulverize the seeds and make them smooth and creamy.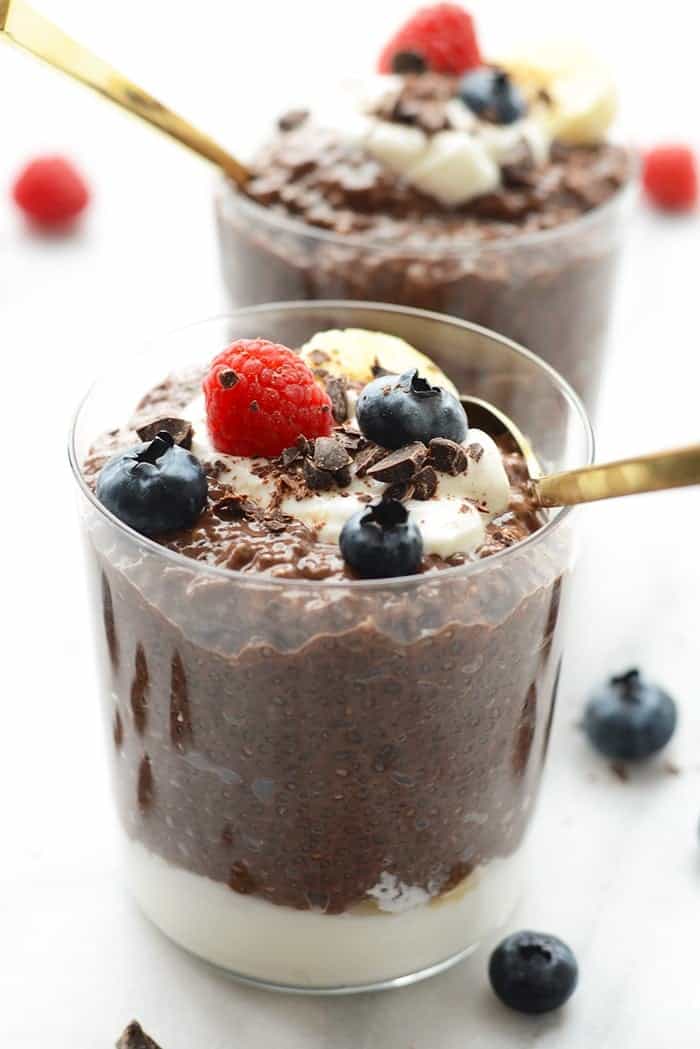 Topping Ideas
Because every chia seed pudding desserts some kind of topping! Here are some of our favs:
fresh fruit: berries, strawberries, banana, raspberries, apples
nuts: almonds, walnuts, peanuts
nut butter: peanut butter, almond butter, cashew butter
granola
coconut cream
Greek yogurt
Not only can you top your chocolate chia seed pudding with any of the above, but you can also mix it right in!
FAQ
Is chia seed pudding good for you?
chia seed pudding is made with fiber and omega 3-rich chia seeds, almond milk, maple syrup, and cocoa powder making it a great dessert option that's nutritious and tasty.
Does chia seeds make you poop?
Chia seeds are highly fibrous, making them a great option if you're trying to poop.
What is chia pudding supposed to taste like?
Chocolate chia seed pudding is supposed to taste like classic chocolate pudding.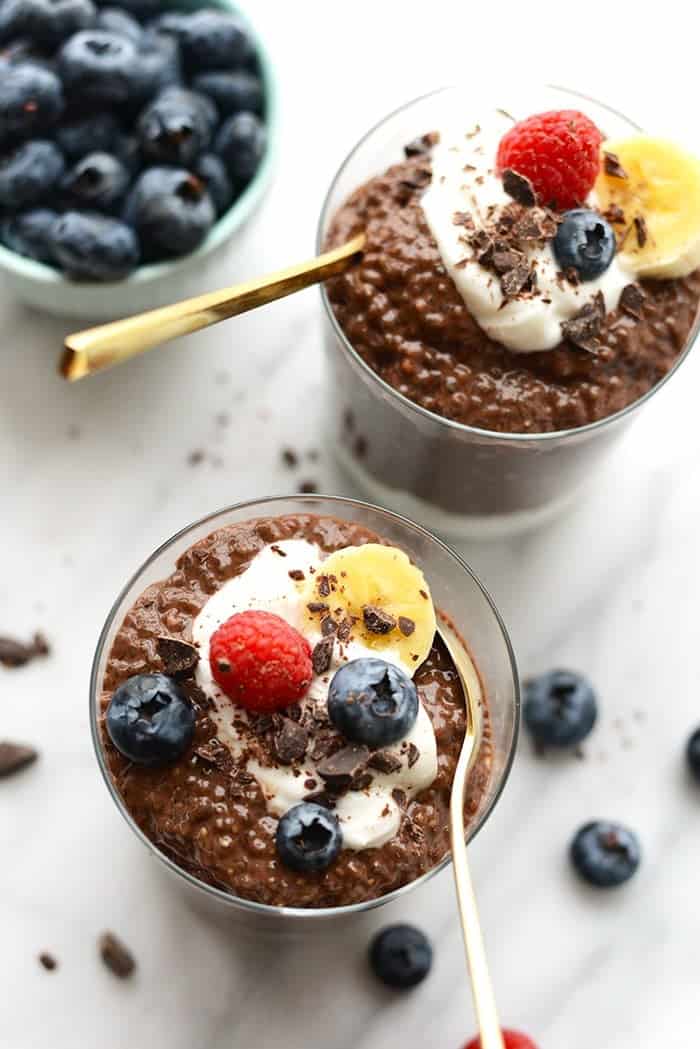 Storage
Store chia seed pudding in an airtight container (such as mason jars) in the refrigerator for up to 5 days.
Chia seed pudding is a great dessert or snack to double or triple because it lasts for so long in the fridge!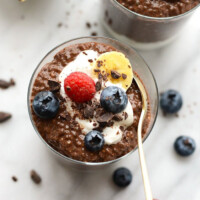 Chocolate Chia Seed Pudding
This Chocolate Chia Seed Pudding recipe is a healthy dessert recipe that tastes like decadent chocolate pudding, but is actually made with maple syrup, unsweetened cocoa powder, and chia seeds!
Prep: 2 hoursTotal: 2 hours
Fat 10
Carbs 33
Protein 7
Yield 2 1x
Ingredients
1/4 cup

chia seeds

2 tablespoons

unsweetened cocoa powder

1 cup

unsweetened almond milk

2.5 tablespoons

maple syrup (or more, to taste)*
Pinch of salt
Instructions
Place all ingredients into an airtight container and whisk until the cocoa powder dissolves. 
Cover and let sit in the refrigerator for at least 2 hours, or for best results, overnight.
Before serving, option to add a splash more of almond milk or eat as-is.
Tips & Notes
This recipe was retested and updated on January 14, 2021. To view the original recipe click HERE.
Maple syrup: if you use a dark cocoa powder or cacao powder, you will likely need to use more maple syrup to balance out the bitterness.
Nutrition Facts
Serving Size: 1/2
Calories: 259
Sugar: 17
Fat: 10
Carbohydrates: 33
Fiber: 10
Protein: 7
Category:
Desserts
Method:
No Bake
Cuisine:
American
Diet:
Vegan
Keywords: chocolate chia seed pudding