These SunButter cookies are easy to make, naturally sweetened and absolutely delicious. They're also gluten-free, nut-free and school-friendly. This post is sponsored by SunButter.
If you have never made cookies with SunButter before let me just start by saying that I couldn't stop eating these cookies. Trust me when I say, these SunButter cookies are guaranteed to be a new family favorite!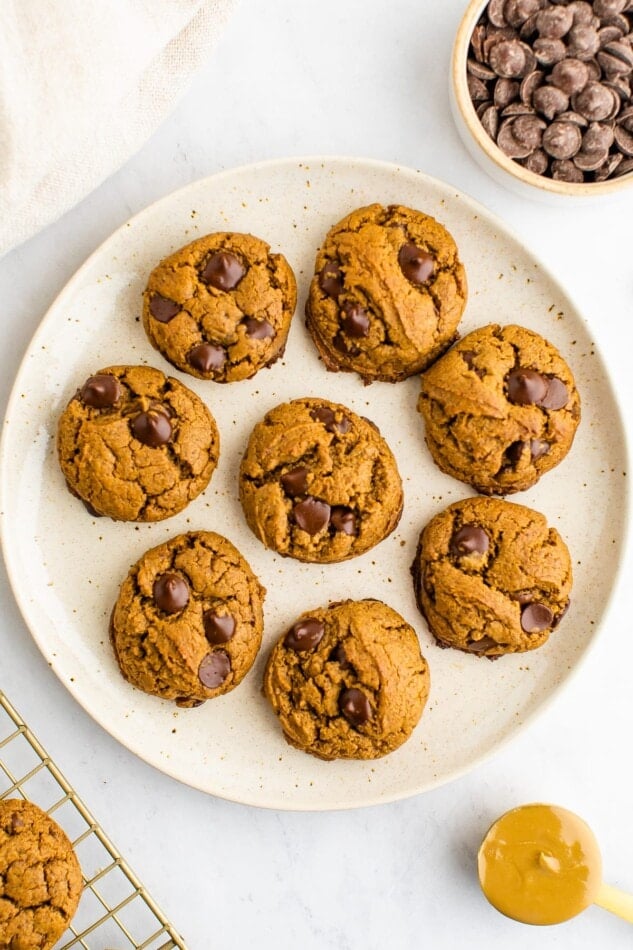 Why You'll Love This Recipe
They're super easy to make – your kids could even help you out in the kitchen.

They're made with SunButter which means they're nut-free and school-safe!
You only need one mixing bowl – yay for less dishes!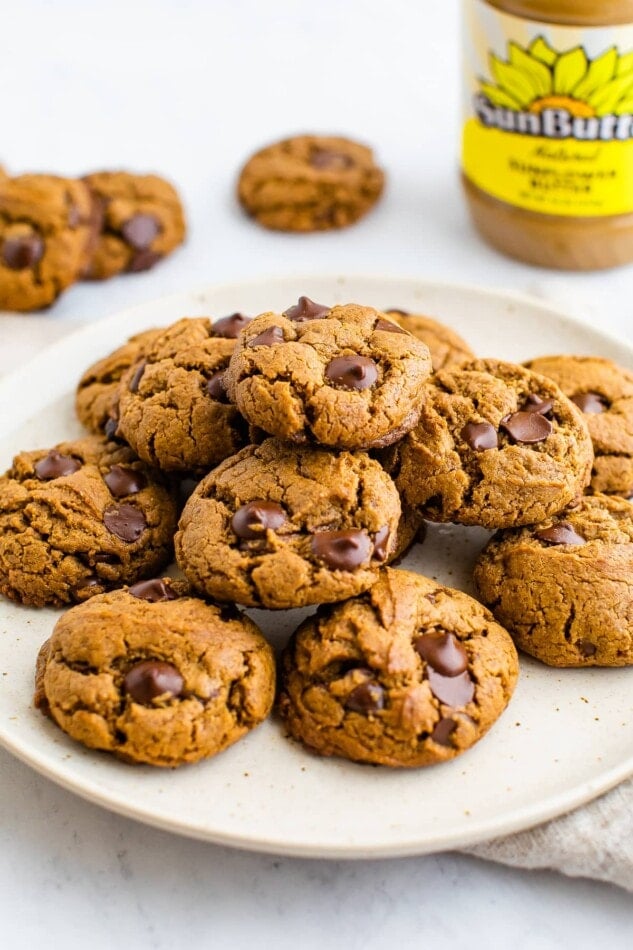 SunButter 101
First let's cover the basics of SunButter.
SunButter is made from roasted and ground sunflower seeds, which are packed with vitamins and minerals including Vitamin E, copper, manganese and selenium. Sunflower seed butter actually has more vitamins and nutrients than most nut butters!
SunButter is a great substitute for peanut butter or any nut butter in recipes. It's free from the top 8 food allergies in the US: peanuts, tree-nuts, soy, milk, eggs, wheat, fish, and crustacean shellfish. SunButter has none of these!
fun fact!
Sunflowers are heliotropic, meaning they swivel to face the sun, which allows them to soak up as much sun-power as possible and makes SunButter a great source of healthy energy. How cool!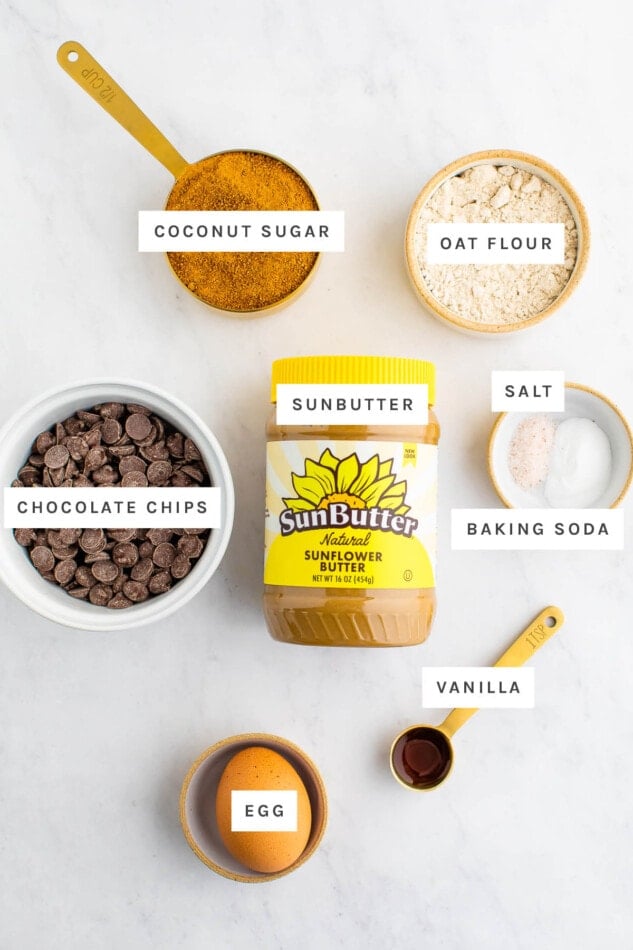 Ingredients Needed
SunButter – I used natural SunButter for these cookies, which contains 7 grams of plant-based protein per serving and more vitamins and minerals than most nut butters!
coconut sugar – to keep things refined sugar-free we're using coconut sugar instead of white sugar. White sugar also works in a pinch!
egg – to help bind everything together. I haven't tested a vegan version of these cookies, but I bet a flax egg would work well in this recipe. Let me know if you try it in the comments below!
vanilla extract – a flavor enhancer!
oat flour – you can use store-bought oat flour or make your own by grinding rolled oats in your blender or food processor. Check out my guide on how to make oat flour.
baking soda – to help the cookies rise.
sea salt – just a pinch!
chocolate chips – I like using Lily's chocolate chips because they are sugar-free, but Enjoy Life chocolate chips are great if you need these cookies to be allergen-friendly.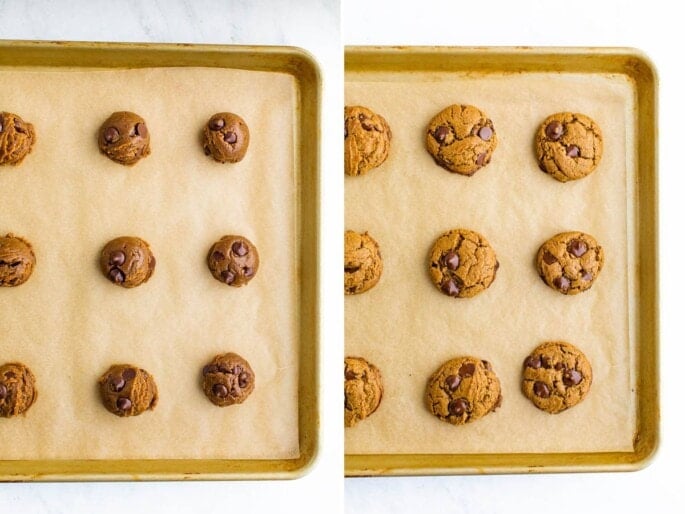 How to Make SunButter Cookies
In a large mixing bowl stir together SunButter, coconut sugar, egg and the vanilla extract. Add the oat flour, baking soda and salt. Stir to combine and then gently stir in chocolate chips. Refrigerate dough for 5-10 minutes.
Using a tablespoon or small cookie scoop, make heaping 1-inch dough balls and place on parchment paper. Press each cookie down lightly before baking.
Bake for 10 minutes in your preheated oven at 375°F or until edges are lightly browned.
Remove and let cool on baking sheet for 4-5 minutes, then transfer to a cooling rack to cool completely.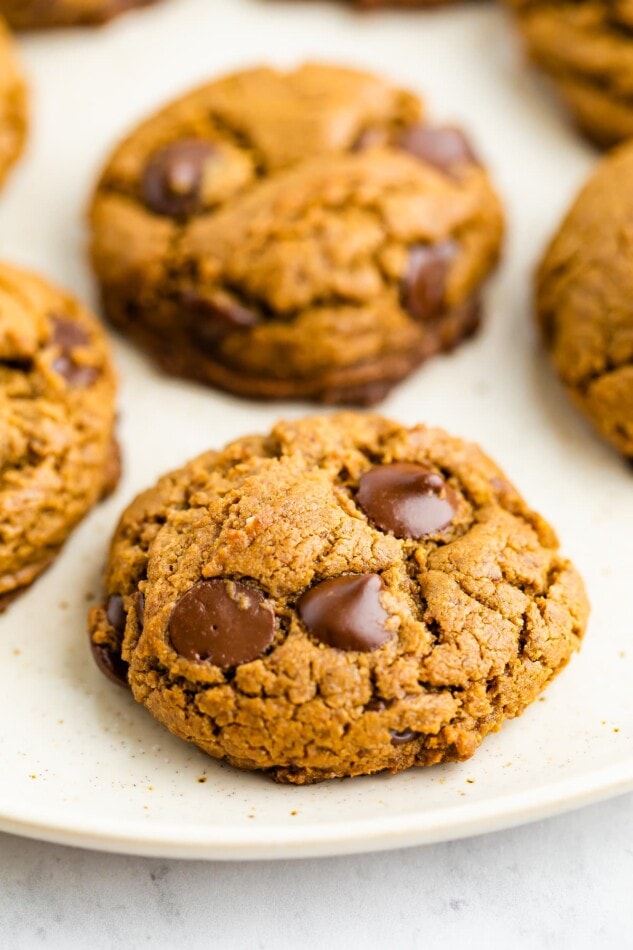 Why Did my SunButter Cookies Turn Green?
This hasn't happened to me with this cookie recipe, but SunButter can occasionally give baked goods a green tint. The chlorogenic acid (chlorophyll) in sunflower seeds reacts with the baking soda/powder when baked. Just know that if this happens it's completely harmless and your cookies will taste just fine!
Can You Substitute SunButter for Peanut Butter in Cookies?
Yes, SunButter makes a great substitute for peanut butter in cookies and other baked goods like muffins, protein balls and granola bars. SunButter has more of an earthy, roasted flavor that's absolutely delicious and it's an awesome option when you need cookies (or other baked goods) to be nut-free.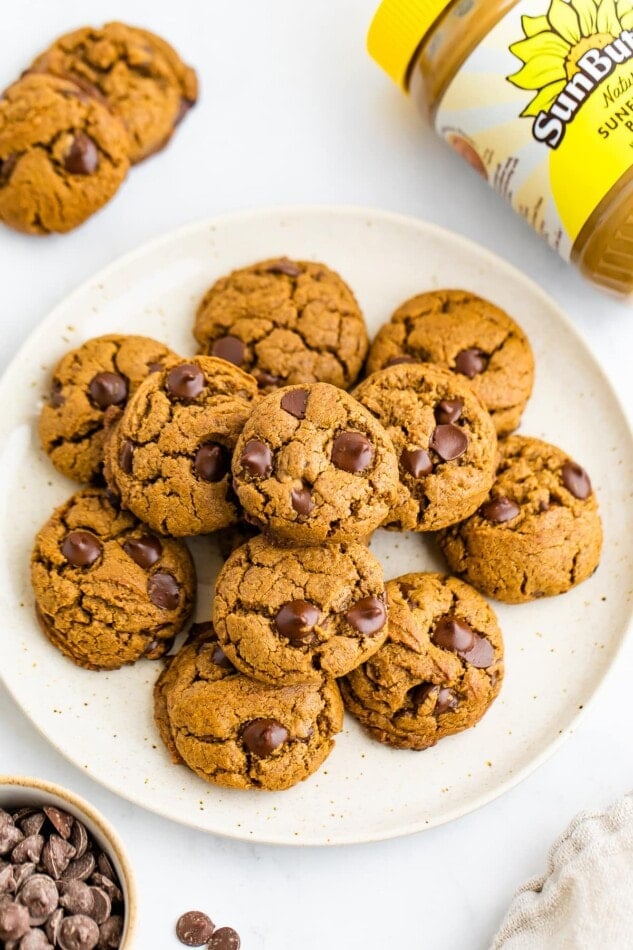 Storing and Freezing
After you let the cookie cool on the baking sheet for a bit, move to a wire rack to cool completely. Once cool you can store the cookies in an airtight container at room temperature for up to 5 days.
For longer storage, you can refrigerate for up to one week and freeze for up to 3 months. If you freeze the cookies, just make sure you use a freezer-safe container! I like using glass storage containers or Stasher bags for storing.
More Cookie Recipes to Try
Be sure to check out all of the cookie recipes here on EBF.
SunButter Cookies
Made with sunflower butter, oat flour, coconut sugar and studded with chocolate chips these SunButter cookies are super easy to make, absolutely delicious and allergen friendly. This post is sponsored by SunButter.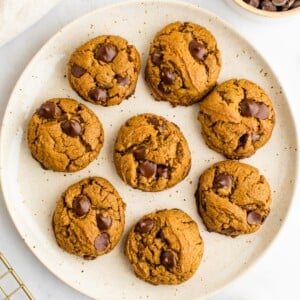 Chocolate chips: I recommend Enjoy Life chocolate chips for an allergen-friendly option or Lily's (which are sweetened with stevia and lower in sugar).
Coconut sugar: If you can't do coconut sugar, I recommend using light brown sugar or cane sugar. Maple syrup could also work, but I haven't tried it. 
Serving: 1cookie Calories: 143kcal Carbohydrates: 13g Protein: 6g Fat: 9g Saturated Fat: 2g Polyunsaturated Fat: 2g Monounsaturated Fat: 3g Cholesterol: 89mg Sodium: 129mg Potassium: 119mg Fiber: 3g Sugar: 7g
DID YOU MAKE THIS RECIPE?
Please leave a comment and star rating on this post and share on social media using the hashtag #eatingbirdfood. I love seeing your recipe shares!
This post may include affiliate links. Thank you for your support.